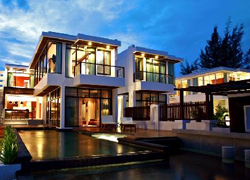 Krabi makes for an excellent investment holding. Despite the political turmoil in Thailand there has still been a huge investment in Thailand. Property prices at the top end have come down in Krabi and now might be the time. Property and commercial investors see Thailand as a good location for investment as the property taxes, investment incentives and the location of Thailand in Asia makes it an ideal spot for any corporate regional office.
Krabi property has also seen a huge investment with new property developments in the area. With the global property market on the up, Krabi still has a huge amount of investment potential as prices in the upper sector has come down. Right now Krabi is an investors paradise as the bottom and mid range villa and condo units are still selling well however the top end projects are lowering their prices to make sales.
If ever you thought of investing in property in Krabi, now is the time to invest. Property developers expect the high end property market in Krabi to only improve at year end once Thailand has held its elections.  Till then property prices will remain depressed and a buyers market. There is currently speculation as to the direction of the Thai government with regards to the continuation of the reduced property transfer fees which has been extended twice this year however many do not see it being extended a third time.
Krabi is one of the best locations in Thailand with its views and low cost of living. If you are considering buying real estate in Krabi then speak to one of our real estate lawyers in Krabi about property transfer fees and other related costs if you are buying commercial property as an investment.